Survivor Narrative
Randy Baxter
Child of a Reconciling God
Growing up in both a small town and a conservative family, I quickly realized that homosexuality was not acceptable. A rather distant God seemed not to approve of me, and coming out of the closet was not an option. My father once reduced me to tears after I hinted of my affection for a male friend, and since my asthma kept me out of sports, I felt like a failed man compared to my more overtly masculine and muscular peers. Only academic prowess provided me with a modicum of self-esteem, though only with the hurtful title of "nerd." I dreamed of being as self-accepting and well-liked as my schoolmate idols I fantasized about.
Given this background, when I attended a week-long evangelical camp in the summer of 1979, this sincere 16-year-old made a born again commitment to Christ and eagerly (yet privately) confessed my "sin" of homosexuality. My overriding desire became to submit to what I thought was God's will. I could only accept "G" in my life: God or gay. One of them had to go. So at 18, I committed to staying celibate, and to spare myself the emotional and spiritual trauma of homosexual fantasies, I even gave up masturbation (for what would be seven years). My sexual tendencies weren't anything I hadn't chosen for my life, but at least I could choose my faith in Jesus and be "saved" from myself!
I trusted that my new Lord and Savior would soon set everything right, changing my "lust" to "holy and pure" non-sexual relationships. I feel that God very clearly led me, at age 20, to the world of ex-gay ministries, whose lifestyle expectations seemed just what I'd been aiming at through my own, personal devotion. My five years with my ex-gay brethren were both a blessing and a curse. At first, I thanked God for leading me to other evangelicals struggling with homosexuality. I could not be more grateful for their suicide-preventing message that my sexual proclivity — in and of itself — would not condemn me to hell. I was a whole person with a certain "thorn in my side" that could be overcome. Though trying to change over time compounded my internalized homophobia, God did use that time to keep me out of the promiscuity that a self-loathing, affection-craving, young male in 1980s San Francisco Bay Area might've gotten into. My ex-gay half-decade thus gave me a neutral, asexual space to grow as a Christian and to lay a stronger foundation for dealing with who I was on the inside.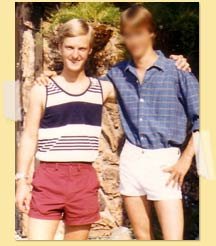 It wasn't easy, mind you — especially keeping a non-sexual friendship with Tim (not his real name), a brother in Christ I met at the 1985 Exodus conference, a guy who otherwise would've become my first lover. I wondered, though, if we'd ever stopped trying to be ex-gay, could we possibly transform our relationship into the Biblical model of a monogamous, lifelong commitment between two believers? Whenever I broached this idea to ministry leaders, I was repeatedly told that all homosexual relationships were doomed from the start because of their erotic nature. Deep in my heart, I remained open to the possibility of such a relationship — even if it weren't with Tim, who sadly left the ex-gay world and God along with it. Crushed, I nonetheless persisted in my dream of a healthy, gay Christian relationship.
My true change did not come in the form I had prayed for — from homosexuality to heterosexuality. It came through months of reasoning and prayer after I allowed myself to consider alternative interpretations of the Bible in regards to sexuality. Jesus tells us that we can tell the tree by its fruit; after three years as a counselee and over a year in ministry leadership (eleven months at Love In Action, plus six months at Turnabout, a now-defunct ministry in England), I'd observed and prayed with hundreds of sincere sisters and brothers in Christ who, like me, had diligently read the Bible, led exemplary lives of faith and submitted themselves to God in every way possible for years and years — all without any change in sexual preference. The only lasting effects were increased frustration, undiminished desire and increasing self-hatred. A few I knew even attempted suicide, feeling they had failed God. Others, like Lee, a friend in England, saved their lives but lost their faith altogether. Years later, I still grieve for their lasting disillusion, yet I could understand why they might spiritually "throw out the baby with the bathwater."
Sure, a few ex-gays publicly proclaimed themselves heterosexual and found opposite-gender partners, locking themselves into pretending to be straight. Some of these admitted to being bisexual in orientation, while others confessed privately that they despite their heterosexual marriages, if they allowed themselves too much temptation, their homosexual thoughts would come flooding back. Change only referred to one's conviction to not act out homosexually, not an inner change of sexual orientation.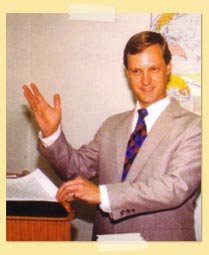 After leaving the ex-gay ministries to attend graduate school, I began arguing with God. "If You're so loving," I would ask, "why would You allow people to develop such an intractable condition of sin?" Would not God be a sadist and not the Prince of Peace if we were locked in despair? I became convicted in my spirit that guilt, shame, impossible expectations and the threat of ostracism — all tools of reparative therapy advocates — were not the means to the life-transforming grace and true freedom I saw Jesus offering us from the Cross. If Satan's goal was to pull, push, coerce, distract or drive us away from Christ, then ex-gay ministries had managed to accomplish that goal with flying colors!
Slowly, I let go of my self-condemnation and realized I could come out to myself as a gay man. I would spend whatever time it took — a couple of years, in my case — wrestling with God over if and how I could be actively gay and still Christian. Could the two "G" words coexist in my life, after all? Could I break my vow of celibacy without falling into a life of debauchery? Ultimately, I had to reexamine my entire, original commitment to Christ ten years before. In part, I had then predicated my faith upon the desire to rid myself of homosexuality; this desire had turned into a fear-based, all-consuming idolatry in and of itself. Yet God never failed or abandoned me as I released my expectation of change the way I thought it would happen. I merely had not been ready, earlier, as a young believer stuck in a homophobic society and church, for a homosexually affirming faith. I had not failed God, either. I had changed into a self-affirming child of a re-creative God gracious enough to protect us from ourselves until we can be remodeled into His broader vision for our lives.
I emerged from this internal struggle having gained both a healthier image of a loving, caring and healing God and a vision of a "holy and pure" gay and lesbian Christian love and community that has since sustained me through many ups and downs. I learned the hard way, for instance, that all gay men aren't necessarily seeking committed relationships, even if they said they were. I did soon find an Episcopal group, Integrity, that showed me a wide range of people who had reconciled their faith and sexual orientation. Needing fellowship with Christians from a more overtly evangelical background, I
was soon led to Evangelicals Concerned. Within a tense couple of years, I came out to my family and friends as an ex-ex-gay Christian (with mixed results), and embraced my inspiring and empowering new gay family at the 1993 March on Washington and at EC.
Over the next six years, friends at EC helped confirm my vision of gay-affirming Christianity in a setting I could trust was not poisoned by liberal theology. Occasionally at EC's annual conferences, I would come across former ex-gay sisters and brothers whom I'd known from a decade earlier, even one from my 1987 live-in program who now attends church with me in Long Beach, CA. We had all survived the well-meaning but faith-corroding cult of change ministries, spiritually battered and bruised but with our faith intact. Some of us were even able to seek to fulfill the vision of developing a loving, committed Christian relationship. In 1996, at age 33, I met a Rick, who was nominally in a Spanish-speaking Baptist church but who had avoided the ex-gay scene.
Seven years later (including one year of couples' counseling), we committed ourselves to each other in Holy Union Covenant ceremony officiated by a longtime EC friend and ordained Southern Baptist minister. Not only were my
parents there — a fact I would never have imagined a decade earlier — but my father offered a heartfelt blessing and toast at the reception. (Glaciers do move!) Rick and I are now planning to adopt a newborn baby.
It's been a joy to be able reach out to others open to healing the damage caused by a homophobic culture, to bring the Gospel to wounded and alienated people seeking reconciliation, and to have the resources and courage to relearn the Bible in its true context bereft of ignorant condemnation! Even in the midst of our despair, Jesus is with us, embraces our innermost being and fulfills the deepest desires of our hearts. I value the Body of Christ (God in the fellowship of believers) more than ever. EC and the various Christ-centered, Bible-based, gay-affirming churches continue to grow and mature into the powerful forces God intends them to be. Best of all, I can rest in the comfort that I am a follower of a reconciling Lord and Savior. Amen!

Randy served as an assistant house leader in the 1987 live-in counseling program of the Love In Action ex-gay ministry; on the leadership council of the Laguna chapter of Evangelicals Concerned With Reconciliation (ECR) from 1995-98; completed his Ph.D. in History in 1999; and has taught History at a state college since 2001.