The Survivor's Initiative
In Los Angeles on June 27, 2007 three former Exodus leaders offered an historic public apology for their roles in promoting and providing gay reparative therapy and ex-gay ministry. Inspiried by their courage, other former ex-gays stepped forward to tell some of their own experiences as a witness and a warning. Below is a time line of those events, called The Survivor's Initiative.
In July 2007, following The Ex-Gay Survivor Conference, Soulforce sponsored The Survivor's Initiative, a series of press conferences of survivors telling their stories outside of various locations that promote or provide ex-gay therapy. We have archived videos of the various press conferences, and you can also view the gallery of collages which were framed and presented as gifts to the various ex-gay ministries and organizations we visited.
Some have asked "Why press conferences? Why not just have meetings with leaders in private?" Following a press conference at New Life Church in Colorado Springs, Peterson explains the reasoning behind our actions.
July 2nd, 2007
NARTH
Valencia, CA
Darlene Bogle, (one of the three former ex-gay leaders to issue the public apology) Dan Gonzales and Shawn O'Donnell kicked off the initiative with a press conference outside of NARTH (National Association for Research and Therapy of Homosexuality). We have video of the press conference in two parts and Dan wrote about it at the Box Turtle Bulletin.
July 8th, 2007
New Life Church
Colorado Springs, CO


Peterson, Christine and Dan Gonzales visited New Life Church in Colorado Springs Sunday, July 8, 2007 for a press conference. There is also video in two parts.
Peterson writes
This morning I joined ex-gay survivors Christine Bakke and Daniel Gonzales at New Life Church in Colorado Springs, CO. This is Pastor Ted Haggard's former church. Late last year he admitted to drug usage and sexual relations with another man. After 3 weeks of counseling, he was proclaimed 100 percent heterosexual. This highlighted the existence of ex-gay conversion therapy and also spread lots of misinformation.

We know that New Life Church has been through a lot and that they warmly received Mike Jones (the man Ted Haggard had been with) some months ago, so we didn't wish to protest them. We also were sensitive that this was during their time of worship, so we assembled in between their services.
(read the rest at Peterson's blog)
July 10th, 2007
Evergreen
Salt Lake City, UT


Barbara and Lester Leavitt spent July 10th in Salt Lake City, sharing their story (video at right) at the office of Evergreen, the Mormon ex-gay ministry (Local Fox station video available). They shared a very unique collage, once which tells their story as a whole, and also their stories as individuals.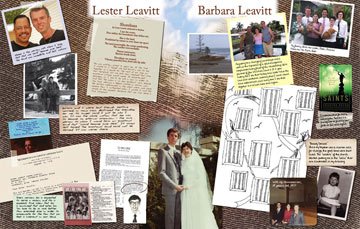 (Click image for a larger version)
July 17th, 2007
Love In Action
Memphis, TN


Brandon Tidwell and David Christie held a press conference at Love In Action to share their narratives and collages. Both were former participants in the live-in program.
Peterson also discusses Love In Action's strange press release at his blog.
Lance Carroll, a youth who was forced to attend Love In Action's youth program "Refuge", was unable to attend the press conference, but his collage was also presented.

(click to go to full page version)
August 6th, 2007
Southern Baptist headquarters
Nashville, TN


Darlene Bogle and Christine Bakke were at the Southern Baptist headquarters to share their stories and express concerns about Pastor Bob Stith being appointed the national strategist for gender issues. Read the article in the Tennessean and watch the video.